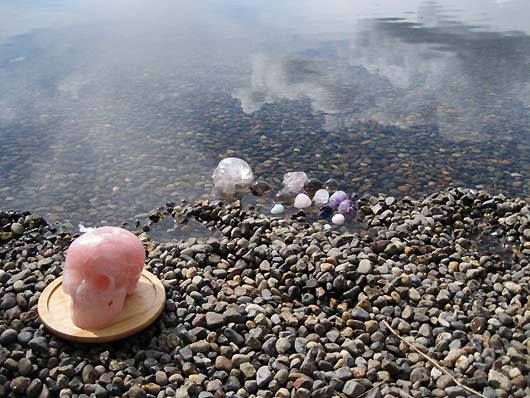 Unfolding of the Crystal Skulls - December 29th, 2016 
-- Special Wish for a Happy New Year from us -- a special message
   from Katrina - Don't forget about the World Peace Meditation on
   January 1st at 1 PM (13:00) your time to bring in some wondrous
   energies to begin 2017

Dear Sohiniben,
 
Hello again dear crystal skull family - our final message to our members for 2016 - it just seems like time is really speeding up now as this year went by so fast. It was another special year with many treasured memories for sure.  With heartfelt thanks for your love and support (for some of you for quite a few years now), we wish to take this opportunity to wish you all a great great and joyful New Years and that 2017 will be an amazing year as well and that we will see the world we all wish for.  It is my (Joshua) personal feeling, we are about to see and hear and experience new events and energies (contact with other intelligent beings more directly perhaps) more than we ever ever have before.  In any case, Katrina has just received a special message through our new Mongolian Skull which is called "WINEMA" (see her photo below), Katrina felt inspired to share this message with you at this time ...
WINEMA SPEAKS OUT through KATRINA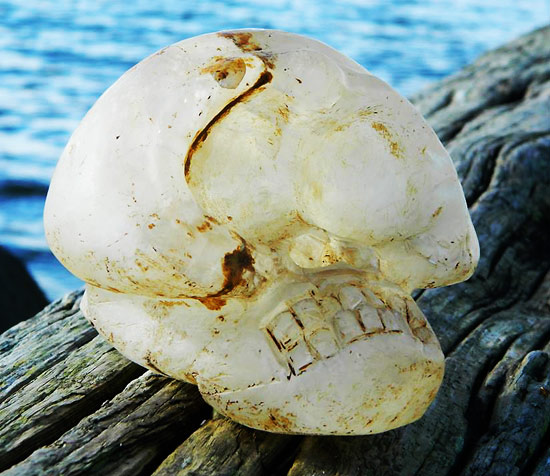 As we come upon the final days of 2016 and going into 2017, I am feeling something very magical coming up for our planet. Related to this feeling I have received a special message (telepathically) from our beautiful crystal skull known as 
"Winema".
 The message is "That it is 'now' time and we are in the final act for each of us to do our best to release all the deep inner seeded feelings we have of abandonment.  It is 'now' time to grasp your inner freedom by working through your heart's energy."  Winema continues and "she" says that "It is 'now' time to forgive ourselves for all limitations and begin to see the divine magic within each of us and as we do so, the divine wisdom of "Mother Earth" will come forward and bless us all." 

Winema says, "2017 can set the tone of healing and healing is magical because this can and will assist everyone to reach the higher levels of existence.  For there is divine wisdom in all lessons we have learned so far in our lives and this brings us into a magical state of being."

I personally thank each and every one of you for the magic and support you have given to us from your hearts to support the healing energy inherent within the crystal skulls to send this energy forth throughout this universe and our beautiful planet.  Let freedom and peace reign in each of our hearts always, beginning now!!! -- Love you all and to the journey ahead in 2017 ....
~Katrina
Crystal Skull World Peace Meditation, January 1st, 2017
(1 PM, your local time ...)
To those members of our extended crystal skull family, especially those of you who has followed our spiritual work with the crystal skulls over the years, you know on New Year's Day, January 1st, of each year, we start another series of 13 crystal skull world peace meditations.  We believe it is extremely important to perform this mediation on the first day of the New Year, as it helps to set in motion a positive loving and healing energy for the rest of the year to come.  Therefore, dear extended family, we invite you once again to join us for this special meditation on Sunday.  We have setup a new webpage which is specific for the meditations to take place in 2017, which also has the details how to participate in this event if you haven't joined us before as well as includes an audio mp3 file you can play on-line (or download), where Katrina will lead you through the meditation.  And even if you don't have your own crystal skull, of course you can still join us by working with your favorite quartz crystal or a special gemstone.  If the 1 PM (13:00) timeframe doesn't work, do your meditation before and send the energies forward.

As always we are here if we can answer any questions for you.  Here is the link to our webpage for the 2017 Crystal Skull World Peace Meditations - we hope you can join us!!

http://www.v-j-enterprises.com/cs_wpm_instructions2017.html
Thank you so much.  We appreciate all of you for your love and support.  God Bless,
and to an amazing 2017, as peace reigns and humanity learns to love each other and
live in peace with honor and respect ...............

in peace and light always,  

Joshua and Katrina
your crystal skull explorers

email: crystalskullexplorers@gmail.com
websites: www.crystalskullexplorers.com   www.cse.crystalskullexplorers.com
facebook: https://www.facebook.com/joshuashapiro.cse
twitter: @csexplorer
youtube channel: Crystal Skull Explorers Video Channel

 
PS: We send special thanks to all of you who have visited our store on Etsy which is called Krystal Star Journeys … As you know, when you find the right crystal skull or crystal gemstone that calls to you here, then your contribution is of great assistance to help us continue our planetary work with the crystal skulls… The link to the store is below and if you decide (or are just curious to see what we have at present) to come and visit with us there please know that if there is something you see that just pops out to you, remember, if you send to us an email first, we will give you a special discount on the price shown outside of Etsy.  We are constantly updating our Etsy Store all the time as we are blessed to discover more and more beautiful crystals and crystal skulls who are looking for their new homes to expand. Thank you so much and here is the store link: