This message was postet by Kereru today - and Arleem added the following information:
Archangel Sandalphon is also associated with music. He can help your words and actions to be gentle, yet powerful. He is the angel of prayer. Part of his message is that all prayers are of equal importance and that there are plenty of angels to help everyone on Earth. Each prayer is heard and answered, even if the answers don't come in the way we expect. He is said to make a necklace of all of the prayers and puts it around God's neck. 
Another thing he does is help you appreciate all of the miracles and victories – of every size – in your life. Sandalphon is the angel of music.
He also protects children. Some people maintain that Archangel Sandalphon determines the sex of an embryo.
It is said that he is the tallest of all of the angels. He is also described as being fiery in appearance, or made of pure energy. This would make it difficult to look upon him.
It is believed that when Elijah was carried up to heaven in a burning chariot by a whirlwind (while still alive), this was when he became Sandalphon.
More information on AA Sandalphon here http://www.innerlightworkers.co.uk/archangels/sandalphon.htm
Excerpt from the above link:
The etheric retreat of Sandalphon and his feminine counterpart, Shekhinah - Lady Patience is everywhere on and within the Earth. They desire no specific focus, so that our access to them is not confined or restricted. His energy is vast and all-encompassing; her energy is always within us. He said "I am wherever you are".
Sandalphon is charged with anchoring the Light onto Earth, and will assist us as Lightworkers to do the same, both into the planet and into our own energy bodies. He said "I am an anchor. I act to penetrate a body and anchor myself into it as a conduit of Light energy, keeping things working at root level in accordance with the Divine Plan, whilst simultaneously channelling in Divine Light, supplying all that is required in order for balance, harmony and hence stability to be achieved."
He liaises in his work with Sanat Kumara; the Elementals and their Directors; all Devic beings and with the dwellers of the Inner Earth. All the secrets of the Earth are accessible through Sandalphon, when we are ready for them, and when he believes us to be worthy and capable of understanding them. He asks us to be vigilant and caring in our relationship with the Earth and learn to live more closely in tune with her and care for the environment. Earth's birth into a new dimension of reality IS going to happen, no matter what man does. How traumatic this will be for we who inhabit her is, to a large degree, up to us all, so it is to our advantage to help make the process as smooth and safe as possible.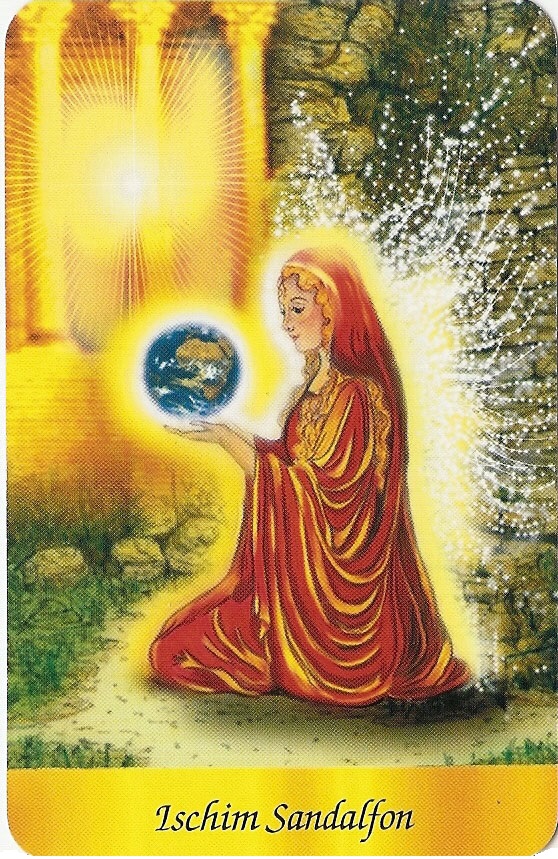 Excerpt from Who is AA Sandalphon:
In Kabalistic tradition Sandalphon is said to be the Guardian of the very bottom sphere on the Tree of Life and it is through his discernment that one does ascend onto the next level.
His guardianship of [Malkuth], the bottom sphere on the Tree of Life, also associates him with the Earth Realm.  Archangel Sandalphon is the Angelic Earth Ambassador, guardian of nature elements, healing of the Earth; he is particularly helpful with grounding and will act as an Angelic Liaison for those wishing to connect with the Elemental Kingdoms.
...
In keeping with this energy, Sandalphon is often experienced as being "very down to earth" and as having a loving and friendly sense of humor.  He has a beautiful turquoise color energy and the gemstone turquoise is aligned with his vibration.  Archangel Sandalphon is extremely sensitive and understanding to our experience within the physical realm and he is a devoted ally to realizing our divine consciousness while fully embracing and experiencing our physical existence.
For more, follow this link where you find the message which I quote below:
http://www.thedivineuniversity.com/240-master-of-the-month-archange...
Words of Love from Archangel Sandalphon
Greeting beloved one, I am Archangel Sandalphon, one of the guardian angels of this blessed Earth and a divine friend of all life here on Earth. When our Cosmic Mother gave birth to all of the angelic kingdoms, one of our special angelic gifts was to play celestial music throughout all time and infinite space, which would bring forth new life out of the pure creation of our beloved Mother-Father God's blessed cosmic universal energy. Over the eternal billions of eons of time and space, since the beginning of our own creation, we angelic beings have been playing our cosmic and celestial harmonies for the greater benefit of the universe.
I am also the angel of divine music and sacred sound - the subtle sounds of pure infinite love, wisdom that comes into perfect creation like the soft sound of the flowers and trees as the wind touches their souls, bringing into harmony the Earth Mother's own sacred creation.
I come forth to teach all beings on Earth how to be in sacred trust and harmony with all other life forms around them, through the connection and alignment of the sacred sound that brings forth deep inner-peace within. Our angelic blessings come forth to you through the sacred Earth each day like magical, divine grace. Below your feet, the crystalline ley-lines or song lines that flow beneath you awaken in each moment the natural grace of truth, simplicity and love. Beneath your feet is your Earth Star gateway that is your bright star connection to your Earth Mother's sacred heart, her crystal core center. As we all commune together in the trust of pure infinite love, our hearts meet as one to celebrate the deep connection of all beings here on Earth in a sacred hoop of divine equilibrium and equality.
Let us all take time to sit still and quiet our busy minds, and feel her wonderful energies, as they move through the central pillar of bodies like gentle wind singing through the leaves of her trees. The total acceptance of your own connection to pure love and grace is all that the Earth Mother requires in exchange. Her great love comes forth to all life equally, all Creatures great and small. Your wondrous Earth Star gateways below your feet were created for the greater spiritual purpose of fully anchoring and centering your entire bodily system into the Earth Mother's sacred crystalline heart center. The activation and expansion of your Earth Star gateway will help you to accelerate your spiritual connection and light work of greater goodness into the world around you. Beloved ones, each day in your hour of power, you can commune with her infinite love and grace by honoring all her kingdoms.
Be silent now as you sit in nature and listen to your Earth Mother's heart beat in the wind and see her loving face smiling back to you through the leaves, grasses, trees and flowers that grow so sweetly in the fields of her beautiful garden kingdoms of pure grace. Beloved one, walk gently on her sacred ground and you shall never be alone again, for the Earth Mother, and her divine mother's love and grace, will always be with you with every step that you make.
Archangel Sandalphon is one of archangels who over-lights the spiritual evolution of this Earth and the greater protection of her crystalline grid structure, all the wonderful natural kingdoms which make up her multi-imensional planetary bodies. Archangel Sandalphon is the angelic guardian, and transformational healing angel of our Earth Mother's crystalline grids.
As an Angel of Celestial Music, Sandalphon also heads a team of healing angels who heal and transform all life with their expanding, celestial music which brings harmony to all life throughout this greater universe. This divine musical vibration is known throughout the universe as the harmony of spheres. Sandalphon also oversees the transformational healing and the greater ascension of all humanity.
Archangel Sandalphon is a beautiful, emerald green angel of enormous beauty and light that matches the inner and outer beauty of our Mother Earth.
You can connect with Archangel Sandalphon through meditation, prayer, dreams, visions sacred song and tonal mantras, or by being in nature, walking amongst the trees or sitting by her water, or anywhere in the natural kingdoms of Mother Earth. Once you align with the spiritual current of pure love that is Archangel Sandalphon's angelic energy, your deeper awareness of the world around you will begin to be activated. Also this activation will open and increase the greater awareness of your alignment with your own spiritual pathway of ascension. Through Sandalphon archangelic connection, the multi- dimensional realms of Mother Earth's planetary body unfolds its greater awareness within the very cellular nature of your being, and with greater grace and ease, brings deep peace within every aspect of your bodily systems.
Once your connection to Archangel Sandalphon begins, his higher consciousness awakening energy will also reveal within your heart and soul the inner beauty or great mystery of all of Earth's greater kingdoms - the pathway of beauty that connects all life in a sacred hoop as one planetary heart family. You can call forth Archangel Sandalphon to help you ground and deepen your own awesome connection to the Earth Mother Goddess. Being happy, singing, sounding and laughing for no reason at all, just for the pure joy of being alive, like the sacred Earth around your being, sends a clear message to the universe and divine spirit that you are ready to receive all the pure love and grace that the greater universe can give to you.
Below, above and around one's being, you can feel your deeper connection to all life blossoming like new life within all aspects of your bodily system. As Archangel Sandalphon's presence connects your being more deeply to your Earth Mother Try walking along a country road or in a park, sing or sound to the air like all the birds and other creatures of nature around you, and feel the love of Archangel Sandalphon, and the loving presence of your Earth Mother, transforming and transmuting your entire being.
Archangel Sandalphon is a wonderful, loving angel of celestial harmony and sacred song,  and he is here to remind us that the creative presence of divine spirit is all around our being in every moment with every sacred breath we take.