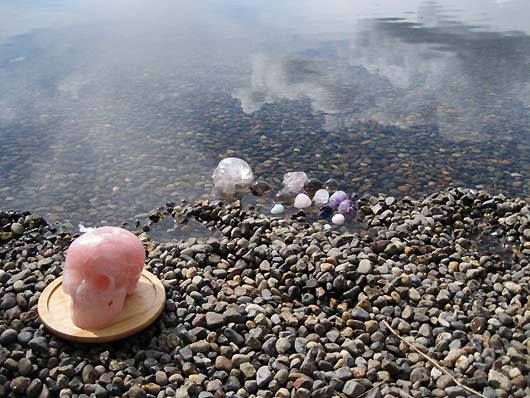 Unfolding of the Crystal Skulls - December11th, 2016 
-- We wish to all our a members a great holiday season and thanks for your
interest and support, a summary of this year, where we are headed into 2017
and our usual updates and news ....

Dear Sohiniben,
 
Hello again dear crystal skull family - well its hard to believe but 2016 is almost over. As usual, this year has gone by fast, but it was a year that featured many amazing events, new (or old) discoveries, a great deal of information be shared on many subjects and a continuation of the vibrational shift of our world as more and more people are awakening to their inner essence.  It also was a year of continued personal challenges for me as well as a time of taking action and responsibility. 

We send our greetings for a happy holiday season to our Members
(we are so so grateful to all of you for your interest and support.)

At this time of year, we reflect back upon all we have experienced and to the special individuals we have contact with, who have been a part of our life.  It becomes a time of celebration with friends and family and to take a break from all the challenges of life, to give thanks to what we have and to the people who are part of our extended family.  We thank all of you for being members of our newsletter and joining us on this journey with the crystal skulls and time of world transformation and awakening of our spiritual nature.  It is very clear to us, with everyone now having their own mobile phones, these powerful devices which allow us to record special events happening in the world, via live video or photographs, that our world is shifting and we are have contact with other realms of reality that are interpenetrating into our physical realm.  We had some strange announcements in the early part of this year by the Queen of England and Pope, that there may not be a christmas - still not sure what this was all about -- and there are many people who have shared with us, that 2017 is going to be a key year - with revelations coming - it seems the key message to deal with all the strange phenomena now happening is to stay in touch, and as we can to support and help each other - to cooperate, share and be co-creators.  It is this energy we have tried to follow in the projects we have supported and initiated in 2016, and shall continue to do so into 2017.

And as we continue to move forward, we propose to do our best through this newsletter, our various websites, public and on-line classes, books (printed and e-books), radio shows and whatever way it is possible to continue to share with our members the best news, updates and insights we can share around the crystal skulls and the paranormal. So thank you once again for being our members and we wish you from the depth of our hearts that this holiday season is a joyous one for you.



A Quick Review of what we achieved in 2016 ......



For us, the crystal skull explorers, as has happened to us before, we had a chance to expand our work by continuing old projects and starting up new ones.  This year begins as we start to use our new more modern formatted website so people can also view in on their mobile phones.  By having such a website, we could bring over from our other website key pages and also we began a new membership service which has now gone on for a year where our members received chapters of the two novels we are writing with friends, telling some amazing stories about how world peace could actually take place on our world through different scenarios - both stories very much linked with the crystal skulls plus special audio interviews with some of the most special teachers we have met.

The new website is at:
http://www.cse.crystalskullexplorers.com

The membership service that is ongoing and being expanded
http://cse.crystalskullexplorers.com/cse-special-membership/

In addition we added to the website - the special radio shows we conducted as guest hosts for EPIC Voyagers radio (see the menu option "CSE Radio shows"), Joshua added an interesting on-line story called "The Disclosure Chronicles" (see "Disclosure Chronicles" on the main menu) - dealing with a possible way how UFO Disclosure may take place with messages from the future in 2077.  Katrina also has on the website her inspired blog posts (called Katrina's Blog) and we continued our crystal skull world peace meditations on the 13th of each month along with support of Crystal Skull World Day last month, on November 20th.

Speaking about the next world peace meditation with the crystal skulls, the last mediation this year (a gentle reminder), is happening this coming Tuesday, December 13th, at 1 PM (13:00) your local time and as usual the webpage shown below has suggestion how to participate with us if this time is not appropriate or you don't have your own crystal skull, see:

http://www.v-j-enterprises.com/cs_wpm_instructions2016.html
(the instructions page along with the mp3 audio file that guides you through the meditation)

https://www.facebook.com/events/1244042839003138/
(the facebook event page for the meditation)

We believe this meditation is very important, as we can help to send out a loving and healing energy that will help to prepare and start 2017 in a very positive way.

2016, was the year we finally decided to offer the best information we have through on-line classes utilizing the service called Learn It Live, as we offered 5 comprehensive classes about the crystal skulls and two on the paranormal (this was the last class we did in early December) - if you have checked out these classes, visit our teacher page below where they are all listed.  It easy to take them, you just register with Learn It Live (for free) and then register for the class.  We plan to continue more classes into 2017 - what is available is the video recordings you can watch through your browser on the device of your choice. To check out what we offered so far go to:

https://www.learnitlive.com/crystalskullexplorers

In late May and early June we had the pleasure and honor to bring the Mitchell-Hedges Skull and her guardian Bill Homann to Seattle and the Pacific Northwest.  It is always an amazing experience to be around this crystal skull which both of us, must admit is the energetic most powerful crystal skull we have experienced - there are photos on our personal facebook page you can view, shown below.  Then in July we were able to take a mini-working-vacation by driving from Washington State to Illinois and enroute there we visited the "Field of Dreams" movie site with the baseball field and did a talk to a group in Bloomington, IL.  Then on the way back we visited with extended family in Taos, NM and reconnected with Tiwa Medicine Man, Patricio Dominguez, who shared his insights about the crystal skulls and prophecy and then visited a sacred medicine stone wheel high in the mountains of Wyoming on the way back.

And finally we had a new book released this year, Book #1, Part I of our novel "Journeys to the Unknown and Back Again" in an e-book form, and at the beginning of this month, it is now available as the Kindle e-book format if you have a Kindle Tablet or use the Kindle app that amazon shares for all the books they have.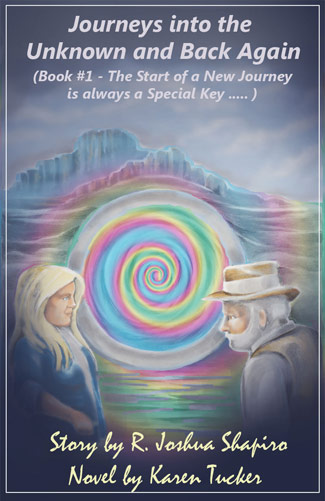 You can still get your copy from us (a PDF e-book) at a special discount, till the end of the year by going to:
http://cse.crystalskullexplorers.com/journey-unknown-back-e-book-no...
(Also note, the cover and most of the inner illustration was done by my brother Chris Rhyason from Canada and a great job he did including the cover)
Or if you rather read the book in the Kindle e-book format, you can find this new book at:
https://www.amazon.com/dp/B01N5CIDD0/
Katrina has some special crystal skulls and crystals looking for you!
Come on over to her Etsy store and take a peek and bring one home
to prepare for 2017!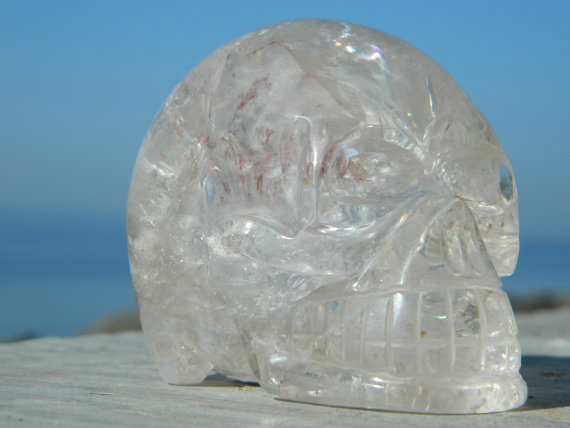 We are constantly receiving new crystals and crystal skulls that come through us - that seek to find their new guardian.  And Katrina has the magic and was gifted by birth to help to bring the energy linked to these gemstones alive and ready to work with you.  Through her special store on Etsy, this is where all the latest and most special crystals we have are shown. Special stones to note are some beautiful and inexpensive rose quartz skulls we received from a friend and an amazing collection of lemurian crystals from Brazil. So, please take a look at all the "goodies" Katrina has posted on Etsy and see if anything is calling you. And if so, don't order it from Etsy but email us (our email is at the bottom of this newsletter) and let us know right away as she will give you a discounted price by purchasing it directly from us.  Here is the link to take a look at:
https://www.etsy.com/shop/KrystalStarJourneys
So, time to speculate where we are headed in 2017 - a year that
many people are feeling is a time of Great Changes to our world
that will affect every person on the planet!

To answer this question I think we have to look at the UFO controversy.  In Joshua's research over the past few years, he has uncovered the following keys, and must of this information is being supported by UFO researchers all over the world as well as what are called whistleblowers, who claimed to have worked on the secret projects going on to discover the truth about the Extra-terrestial piloting these ships, as well as the direct contact world governments have had with ETs since the 1930s.  It appears the American and German government began dialoguing with ETs over 80 years ago - using radio transmission and also working with spiritual mediums.  Then in the 1940's we had some crashed saucers like Roswell, and many people see flying craft in the skies performing aerial maneuvers our planes of the time could not.  In the 1950's some of the back engineered technologies from crash saucers started to be introduced into the normal world and as we have seen, especially linked to the microchips and computer technology our world advanced quickly with our technology which only continues to expand this day.

Further it has been learned, that the form of our human bodies were genetically changed by ETs many thousands of years ago using pre-humans, that we have alien DNA inside, and that the evolution and history of humanity has been greatly influenced by these visitors including many of our world religions and legends and that several races not only have underground bases on the earth but are on the moon and other planets in our solar system.  Also, via agreements reached with certain ET races, during the administration of General Eisenhower and beyond, that every fantastic technology shown in our scifi tv shows and movies exists and that there is a secret space program.  To verify these statements all one has to do is either go on youtube and watch the amazing videos and documentaries there - visit one of the millions of UFO websites or the many books which have been published.  Everywhere you look, leaks to this information that has been hidden almost 100 years is coming out.  The challenge is what to believe is truth and what is a hoax.  I (Joshua) feel that although so-called official "Disclosure" has not come out yet, because the governments who have hidden this information are in a "No-win" situation, it is being allowed to come out via other sources and that some direct contacts very publicly with various races of ETs is eminent.  Think about how our world would change in one day when the existence of ETs is an absolute reality?

Along with UFO information that has come out in 2016, is new information that there are more planets in our solar system and that actually we are part of a binary star system with a smaller sun in the second solar system and it being a dark star, however I have seen a lot of video from all over the world where people are seeing two suns in the sky - apparently this is clearly seen in the south pole which is a whole other story of what is happening in Antartica, where so-called the Germans (traveled to after WWII) and have a secret city there with advanced flying discs.  Also of course a lot of people are speculating (based on ancient records) if Planet X (also called Niburu or Wormwood in the Bible) is nearby and what affect its passing with have upon us.  Then more information is coming out about the true history of our world and the origins of humanity, if 
Zacharious Snitchen was correct in his interpretation of the clay tablets of the Summerians and the Annuanki, the people from Niburu, helped to create humanity.  It is my feeling that with all of this information coming out now - the truth about humanity as well as our spiritual essence - absolute proof linked to all this information is about to burst forth along with physical manifestation of these other intelligent beings and other universes (parrallel earths) and realities.  Thus, this is part of the reason we each chose to incarnate now, as we understood the tremendous transformations that were going to happen to our world plus we wanted to come not only to help this process but to help those people who have lived their lives denying these other aspects and realities and to help them when all of these new activities start to become a part of our world.
Additionally I have been paying attention to what people are calling the "Mandela Effect", where some people remember activities which happened in our recent past differently than others - like some people remember (this is where this term comes from) that Nelson Mandela (from South Africa) died in prison in the 1980's where the rest of us know he survived and became the President of his country. Or was the spelling of this hotdog, Oscar Meyer or Oscar Mayer (as it is recorded) -- or is it MacDonalds or McDonalds (as it is recorded) or in the 2nd Star Wars movie, did Darth Vader say to Luke, "Luke, I am your Father" or "No, I am your Father" (I checked our DVD and its this second one, but I remember it being the 1st one).  So what can explain this effect. It almost sounds like parallel earths are losing their boundaries between each other and our time-line is seeing subtle changes - could this have something to do with a rumor I heard that at the Cern Collider in Switzerland/France, they have been doing secret experiments to open a door to other universes and if so, they did and can't control the effect of this in our reality.

It is my strong inner gut feeling, that all this information and history that has been hidden from us is about to explode outwardly and the world that we will know will never be the same again.  And this doesn't even take into consideration what might happen if the Sasquatch People, the Inner Earth people (descendants of ancient civilizations who have underground cities) or the Hollow Earth people (those beings in a 5th dimensional density, quite tall, who live on the inner surface or our world, since it is hollow) decide to publicly come out as they are residents of our earth as well even though they live on a slightly higher vibrational physical plane.  Something big is about to happen - can't you feel this and this also has nothing to do with what happens here in the U.S. next year when Trump takes office which is a whole other story.  As they said in the trilogy of movies around "The Matrix", we really are about to jump into the Rabbit Hole to find out what is on the otherside!
Comments about Standing Rock from Katrina



Last but not the least Katrina would like to bring in an energy connection with Standing Rock and the water protectors in North Dakota…. Please pray and hold the highest intentions for the Native Americans and especially that our waters be blessed… Water is Life and our Mother Earth is effected by all that continues to go here in such a pivotal place in North Dakota… let's all remember and pray for the protection of the Water during our world peace meditation next week.  
Thank you again.  We appreciate all of you for love and support.  God Bless You All,
and enjoy this holiday season before our world really starts getting crazy ...

in peace and light always,  

Joshua and Katrina
your crystal skull explorers

email: crystalskullexplorers@gmail.com
websites: www.crystalskullexplorers.com   www.cse.crystalskullexplorers.com
facebook: https://www.facebook.com/joshuashapiro.cse
twitter: @csexplorer
youtube channel: Crystal Skull Explorers Video Channel