This is the second Crystal Grid  to help people connect with the astrological alignment on the 25 August 2013.
You could print this Crystal Grid and meditate with it, or sleep with it under your pillow.
The grid will help you to Attune your DNA (raise it to it's highest level of frequency) on the 25 August 2013.  Continue to use the grid as you feel intuitively guided.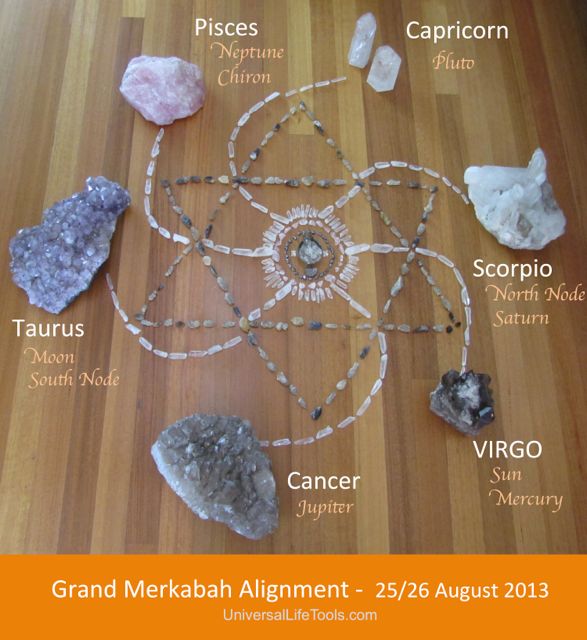 What do these formations mean ?
These twin  '6 pointed Merkabah Star formations' are together activating our 12 pointed Merkabah Body of Light (see Diagram 3).
Thus our activated 12 pointed Merkabah Body of Light (through the 13th central point), is the vehicle that supports our conscious connection with the 13 Spheres of Metatron's Cube.  It is the vehicle that supports the awakening of our DNA and our quantum leap into enlightenment.
These twin Merkabah formations are thus awakening the 13 Divine Laws of Creation through us  (the 13 Sacred Keys, refer to Shealla-Dreaming), opening our Heart-n-Minds to a more conscious way of being and co-creating as a global humanity.
The Merkabah field formation connects the conscious Heart to 'zero point', the connection of 'as above, so below' thus through INTENT healing takes place from the 1st Dimensional (Crystalline Field – Earth Gateway) through to the 8th Dimension (Centre of the Galaxy – Cosmic Gateway).
Diagram 3 – 12 Pointed Merkabah Body of Light
(refer to Merkabah Article for more info)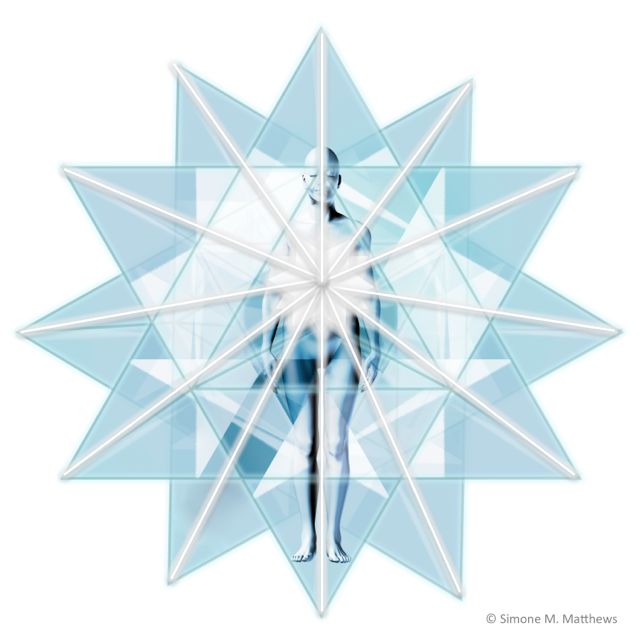 How can I connect to these twin Merkabahs during these Stargates ?
1.  On the days of each Merkabah formation, then on a regular basis during the period between the twin Merkabahs, connect with the FREE Galactic Heart Meditation by Simone M. Matthews.
View the Meditation for free >>
2. Work with the Crystal Merkabah Grids as described above.
3.  Enrol in our Shealla-Dreaming Self-Study Course, to understand more about the 12 (plus 13th central) points of the Double Merkabah and how to consciously activate the wisdoms of each point within your life.
4. Enrol in our Soul Evolution Self-Study Course to work with the Double Merkbah to consciously Activate & Attune your DNA.
5. Read more about this alignment with my beautiful friend Kyrona & join in with her MASTERY INITIATION & LIGHTBODY ACTIVATION EVENT'
FROM LINK: https://www.universallifetools.com/2013/07/merkabah-activation/