QUAN YIN:
Quan Yin is a Bodhisattva (a Being of Enlightenment), the Goddess of Compassion and Mercy, and one of the Lords of Karma. She is Chohan of the Pearlescent White Ray, and a member of the karmic board. As well as Directing the Pearl Ray, Quan Yin also works with the 8th Ray and with developing the 8th chakra (also associated with the pearl) and opening and activating those centres above that. She embodies the qualities of compassionate and loving kindness is also a powerful Master of healing. She heads the Temple of Mercy which is situated in the ethers over the foothills of the mountains north of Beijing, China, which is also the retreat of her andher twin flame, Lao-Tsu. This temple is said to have a central pagoda with a golden dome, rising above 12 surrounding pagodas, each of which focuses the Yin and Yang qualities of the 12 Solar Hierarchs. Within each of the 12 temples one can hear the "music of the spheres" which encapsulates these energies, and hanging over each doorway within each temple are pieces of crystal mounted in a precious metal that chimes each temple's note as the winds blow through them.
Quan Yin is the Divine Feminine aspect within Buddhism, equivalent to Mother Mary, Isis and Shakti in other world belief systems. Her full name means "She who listens to the cries of the World" and she has vowed to remain in the earthly realms until all other living souls have completed their own enlightenment. In many images
She is depicted carrying the Pearls of Illumination and longevity, which were created by Lao Tsu and are connected to her role as Chohan of the Pearl Ray. She is often shown pouring a stream of healing "Waters of Life," from a small vase (she refers to this as "The Flask of Immortality"). With this water all living things are blessed with physical and spiritual peace. She may also hold a sheaf of ripe rice or a bowl of rice seed as a metaphor for fertility and sustenance. Some also see her riding a dragon, both an ancient symbol for high spirituality, wisdom, strength, and divine powers of transformation, and a symbol of the serpent and the polar and complete energies held by Lucifer/Lux'eon. Her symbol is a lotus flower, and her electronic signature a 5-petalled lotus.
Quan Yin was adopted by the Buddhists as an incarnation of Avalokitesvara (Padmapani) and is invoked with the mantra Om Mani Padme Hum – "Hail to the Jewel in the Lotus".
According to legend she was born from a ray of white Light emitted from the right eye of Amitabha, the Buddha of Boundless Light, thus she is seen as an enhanced emanation of great compassion, the quality embodied by Amitabha.
Quan Yin provides the high-reaching and far-sighted perspective over and through the realm of opposites and polarities, transcending and dissolving all conflicts and bringing harmony. She has many sanctuaries around the world, but all are to be found in the lofty heights of mountain peaks. She has also petitioned God and been permitted to apply the Divine dispensation of Mercy and compassion for all of humanity and beings on Earth. The laws of Karma demand swift repayment for each karmic Law we violate, but the grant of mercy sets the burden aside for us until the wisdom and ability to deal with it is attained – this means reaching the stage whereby understanding permits the giving and receiving of true forgiveness in the form of true atonement (the state of being at one-ment with ones Divine Nature).
She accordingly works with Lao-Tsu and the Mercy flame to dispense this compassionate form of justice. This Flame is the colour of orchids – deep pink / purple (Divine Love tempering the Divine Will of God), thus being composed of a combination of rose pink and purple Rays. The purple Ray contains more of the blue of Divine Will than the violet flame, and has a deeper cleansing action to the etheric bodies, especially the spiritual etheric bodies (layers 4 and above). This will help to clear records of the past (including past lives) that may be buried deeply within the subconscious It is this transformation that is Lao-Tzu's speciality, tempered by Quan Yin's compassion. Know too that forgiveness and mercy works both ways – if we expect it, then we have also to give it to others. Quan Yin can also therefore help us release our hurts and truly forgive those who may have hurt us. We need to see that to hold on to our reactive feelings about wrongdoings against us harms us more than the wrongdoer, and we need to forgive and forget if we want to be truly at peace with ourselves: if we can recall the memory of a misdeed, then we have not truly forgiven. Quan Yin will work with us in attaining the qualities of compassion, forgiveness and love. She wishes us to be able to heal our heart chakra and emotional body of its wounds, and does this through restoring self-confidence and helping us to remove emotional blocks which may prevent us from moving forwards in life.
Many people have been hurt or affected in some way by things that have happened in their upbringing (and even in past lives). These may leave one feeling unloved, unsure of who and what one is, or even identifying with and taking on the archetypal energy of "victim". We need to resolve these feelings which are not a part of our true selves, and see ourselves in our true lights as who we really are. When we understand that we are lovable and loved, this enables us to be loving and forgiving towards others.
Quan Yin has this message for you:

You as me: "what is Karma?" Well, let me tell you this, it is not a punishment. It is, rather, a balance sheet of cause and effect that YOU keep for yourself. All of life presents you with lessons to learn, for that, after all, is the point of being in physical existence. If you had nothing more to learn, or if you had chosen not to learn but to remain in ignorance, then you would not have left the heart of God. And you need to see and understand those lessons from both sides, and to experience all aspects of life: happy and sad; calm and stormy; pain and peace. And you also need to gain the realisation that all actions have consequences, and that some actions bring you closer to your Christ-self - your Divine Self - than others.
If returning to Unity with God is your ultimate goal, then you need to live AS God: as  a loving, compassionate and merciful being of Light. For it is that path that brings the most peace to your soul and the most joy to your heart. Can you imagine a life full of peace and joy? Try now.... You can have this if you choose, for you make many choices every day - you can choose to be humble and forgiving; loving and giving in thought, word and deed; a friend to yourself as well as a friend to others. You do not have to carry the burden of unhappiness or discontent, if you choose not to. Unburden yourself daily of all hurts, troubles and upsets that have beset your day and sincerely ask for the Flame of Forgiveness and Mercy to transmute wrongs (real or perceived) done to you, or that you have done to others and I will intercede for you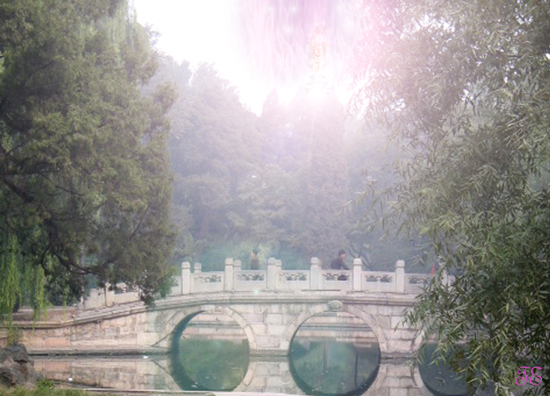 Kuan Yin, Goddess of Mercy, has a retreat over Beijing where a central golden-domed pagoda and twelve surrounding pagodas release mercy's violet flame to the entire planet. The cosmic sound that emanates from these twelve pagodas anchors the energies of yin and yang and have influenced classical oriental music. The central pagoda is six stories high with many classrooms and council chambers, where the brothers and sisters of mercy serve souls in need of compassion and forgiveness. On the ivory altar of the central pagoda blazes mercy's flame, nourishing souls to keep on keeping on in an upward spiral, in spite of the weight of their karma. 

Call to attend the Temple of Mercy

     In the name of the Christ, My Own Real Self, I call to the Heart of my Mighty I AM Presence, to the Angel of the Presence, to Beloved Archangel Michael, Kuan Yin and the Maha Chohan, to take me to the Temple of Mercy over Beijing, China, according to the will of my Holy Christ Self and the direction of the Maha Chohan. I ask to be taught the alchemy of forgiveness for the victory of the flames of mercy and compassion within my heart and seat of the soul chakras. 

     (personal prayer)
     Beloved Kuan Yin, help me to remember upon awakening all that will help me to fulfill my mission on earth and the mission of my twin flame. I accept this call manifested through the power of the Christ and am thankful for its realization. In the name of the Father, the Son, the Holy Spirit and the Divine Mother, Amen.