Comet ISON is now located in the constellation Libra in the SE early morning sky around and after 5:45 am local time up until sunrise, but it is very difficult to spot because of twilight and the moon. Using a pair of binoculars might help you spot ISON, but it will become gradually lower and lower in the sky each morning each morning until perihelion, reducing the likelihood that you will see ISON. The last update was on November 18, 2013.
Here are the latest and best images of Comet ISON from the past couple of days. It might take a while to load the pics, but it's worth the wait. You can follow on Twitter for the last Comet ISON images and news.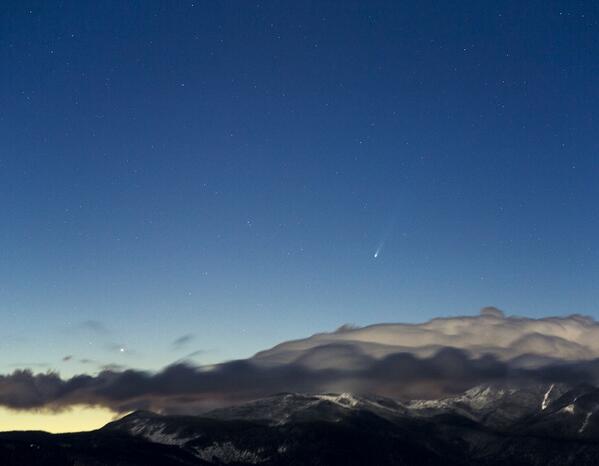 The SEEDING has BEGUN!
You may or may not have participiated in the global meditations yesterday
as the six pointed star formed by  
Mercury, Venus, Jupiter, Saturn, Neptune and Pluto
initiated the SEEDING process.
NOW is the time to KEEP the global meditations GOING!
LIGHT a CANDLE
SET UP A GRID with the intention to
WELCOME the seeding of STAR DUST on Earth!
The implications of this will become known long AFTER the seeding has taken place.
Let us not wait for our scientists to analyse and find out more.
We are beings of LIGHT
Beings of pure CONSCIOUSNESS.
And amino acids from the Universe bring New Life in 3D manifestation to EARTH -
NOW!
It has begun.
We UNITE in SPIRIT
We UNITE in LOVE
WE ARE THE NEW BEGINNING!
And we are ready to listen to the mesages we receive DIRECTLY from our Star Brethren.
And here is the place to SHARE our insights, visions and messages.
On November 28th I invite you to CREATE
rituals with FIRE and WATER.

To SEED the EARTH
Maybe you can brew a "Magic" Drink on that day over an open fire and SHARE it with the Earth.
Drink the magic tea  with your friends and offer part of it to the EARTH,
symbolic of the SEEDING - and that we are READY to RECEIVE!
And NOW
you are welcome to create a GRID!
Without knowing, I did this the day before yesterday ...
My grid is SET UP.
CONNECTED to the WHITE LIGHT CREATRIX
and the GRID OF VIOLET LIGHT!
Now GOLDEN hues of light are intermingling ...
GOLDEN WHITE VIOLET LIGHT RAY GREETINGS!
Sonja Myriel